History - Rabbits
I never had a rabbit when I was growing up in London, nor when the family moved out here. It was not until January 1996 that I got my first rabbit as a pet, a big Black Rex doe I named Janette, after the svelte, often black-velvet-clad vampire of that name in Forever Knight. There's no such thing as just one rabbit and by mid-year I had acquired a black-and-white butterfly Dwarf Lop, named Fabiola, a Black Netherland Dwarf named Genkuro, an English crossbreed named Lepidus, a large black Angora/Flemish giant crossbreed named Drusus and a Black Otter crossbreed named Aurelia. A little later they were joined by Claudius, a Black Rex buck and Shiratama, a Hotot-patterned Netherland Dwarf who came from a pet shop in Cherrybrook in Sydney.
I was always mixing and matching them and surprisingly, in view of conventional wisdom and later observation, there were no fights. Aurelia did get a bit stroppy with her original companions but I put her in with Lepidus and Fabiola, who were firm friends, and they sat on her - literally - which took a lot of the ginger out her and the trio were the three musketeers. Fabiola was a cheeky little minx who would chase the Oriental out of the yard - this was a cat who took little from his own species and not much from humans, either but Lops bothered him something chronic. Fabiola was the devil to get back inside once she was out to play in the yard, too, scampering under bushes and darting off, one ear up and one ear down ("propeller-head" I used to call it) just when you thought you had caught her. One morning my mother who was visiting looked out the kitchen door and asked, "Is that a rabbit on the back deck?" Sure enough, Fabiola had invited herself to breakfast, having escaped her run. Lepidus was one of the nicest natured, gentlest rabbits I have ever known. Even though an entire buck 12 months old when I got him, he would look after the younger rabbits like a surrogate father.
Alas, in early November of that year, Fabiola, Lepidus, Aurelia, Genkuro and Shiratama were all killed in a matter of minutes while playing in an open pen by a Malamute who got into the garden while I went into the house to get something. Drusus escaped by leaping out of the enclosure and getting out the side gate while Claudius saved himself by going to ground in a half-completed burrow the does had been constructing. I collared the brute and sent it to the pound. The owner claimed it had never done such a thing before but got out while her back was turned. She was oh so sorry at the time but soon changed her tune and never did pay me even the pittance she haggled down to. For this reason, I always advise that if you are ever in this unfortunate situation, do not negotiate but go through the courts as you have the right to do. Too many people have no honour or sense of right and responsibility.
However, there was one good thing that did come out of this horrible experience and that was I discovered the world of the rabbit fancy. In attempting to fill the void by buying some more bunnies, I found a notice for a show out at Hall put on by the Canberra Rabbit Club. I bought a Black Otter Netherland Dwarf doe because she looked like a miniature Aurelia. Thereafter I would go to the shows when I knew they were on, just to look at the rabbits, chat to people and occasionally buy some more.
In 1997 I bought my first pedigree, rung rabbit, a two year old Agouti Cashmere Lop doe named Camilla. She was a Bonreiki rabbit and came not only with papers but information on joining the Canberra Rabbit Club, which I duly did. Christine was very helpful, answering questions I had about rabbits and offering to mate Camilla if I wanted to breed from her. I wasn't so sure about that as in January that year Clodia had taken matters into her own paws and presented me with an unexpected litter while visiting a friend in the Blue Mountains. I thought she looked a bit of a pudding until one morning I noticed something odd near her feet in her cage - a litter of 4 black jelly beans that grew into very cute Black and Black Otter crossbreeds (the father was a Black Lop buck named Scipio).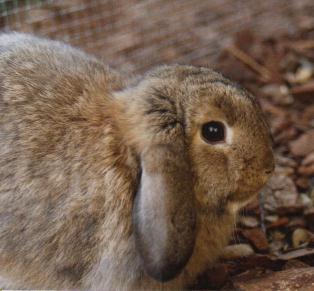 Any career Camilla might have had on the show table was cut short a week after I got her when Scipio, who had hitherto accepted her as a companion in his run (he was by now desexed) suddenly turned on her and tore both her ears. Scipio was sin-binned (and got bailed up and bitten by the pet guinea pig Yuki as mentioned in The Pig and I), then given away to some people who didn't have any other rabbit.
Camilla was a definite character, very much "Queen Camilla" she lived for a while indoors and chinned everything animate and inanimate - my chair, my carpet, my Siamese cat, my table… She later shared a run with the second Lepidus. a Cashmere Lop and then Domitilla, a Marten Sable Dwarf Lop. This was entirely their own idea and completely blew out of the water the usual strictures about does fighting unless closely related and even then a bit iffy. Camilla was at the time 3 years old, born and bred in Wanniassa while Domitilla was about 2 and born and bred in Sydney (bought in a pet-shop in Rockdale and lived in Allawah). They insisted on playing together and sleeping together. Eventually, Domitilla was moved into the rabbitry for breeding purposes and Camilla went to live with Drusus with whom she also got on very well. A friend once described her as "a happy rabbit" and she was. She was a very sweet natured rabbit, especially for a doe, very friendly and easy going. She passed on at 6 ¾ on 22 December 2001.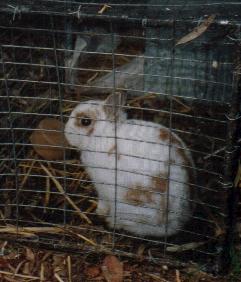 My first rung rabbit which I bought specifically for showing was Alpine Fabius, a Netherland Dwarf buck. He was an Orange and White Broken Butterfly I got from Gail Lincoln in February 1998. He, too, was quite a character. He would sit on my shoulder and chitter in one ear while I was on the phone. I had absolutely no idea how to go about showing a rabbit, other than what I had observed and it took quite a bit of courage to put him on the table. (It was this reason I have written articles on how to show rabbits and guinea pigs so others won't feel as at sea as I did). And with Fabius began a steep, one might say perpendicular, learning curve about rabbits, rabbit husbandry and the rabbit fancy. Good ol' Fabius without whom there wouldn't have been a Netherland Dwarf AOC class (this was a while before everyone went in for Orange). I got him a mate, Cornificia, who was a good organiser - she had him build the nest while she put her feet up.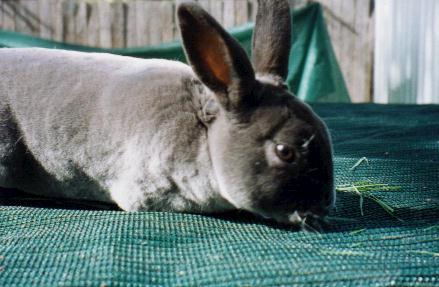 A little later in 1998 I bought the first Calpurnia, a Siamese Sable Mini Rex doe who did very well in the kitten and junior classes but dipped out once she reached adulthood as a lot of white hairs turned up in her coat. At that time not many people were breeding Mini Rex and there was only a limited range of colours. I mated her to Gail's handsome Black buck, Hunter a couple of times and kept a lovely Blue doe from the first litter, who had the densest coat I had come across. Shame about her white whiskers. Eventually disillusioned by the limited colours, and the faults in the lines I seemed to be working with (open coats, sudden deaths of kits as late as 9 weeks and so on), I sold my Mini Rex in early 1999.
The third major addition to the rabbitry in 1998 were the Dwarf Lops. As noted above, I had had a few as pets but the first rung ones came from Danica Stud, a Marten Sable buck I named Cornelius Merula and a Black Otter buck I named Valerius Messala. Only problem, as the boys could attest, there wasn't a doe to be had for love nor money anywhere apart from the somewhat persnickety Domitilla. Towards the end of the year Christine came to the rescue with two Bonreiki does, Fleur (Blue), and her daughter, Valeria (Black). I have bred quite a few of them, sold a number as pets or to other breeders. Later on, I reduced the numbers to concentrate on the Satins, parting rather reluctantly with Reguli Faustus, a sooty fawn who has done very well on the show bench, and Reguli Sabina, a seal-point with a very friendly nature, and good show career but the world's worst mother. After selling off some non-performers (the drought over the past six years has played havoc with the breeding program – they simply won't), I have decided to focus on Tan-pattern Lops.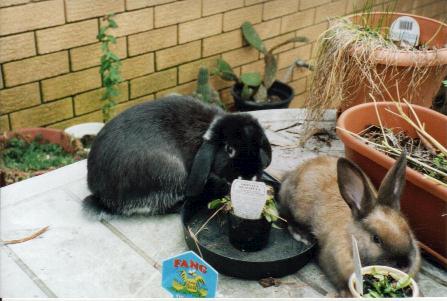 Not to be forgotten was Scribonia, a Petite Sooty Fawn Satin doe I bought as a pet (though she was rung) as the breed fascinated me and the second Lepidus, a Danica Cashmere Lop bought for the same reason.
Also in 1998 I registered the stud name and had a metal shed put up as a rabbitry. The only problem was where to get cages. I looked at the set ups various breeders had and was told you could get secondhand cages but as I don't own a trailer (don't even have a tow-bar on the Ford Festiva hatchback) they were out of the question. Eventually I put an ad in the Canberra Times asking for a person to make cages which was answered by a fellow who makes small animal cages which are sold in various local pet shops. Finally I had a banks of cages and could move the rabbits in out of their pens in the yard (some were in the commercially available metal runs, others were in converted wooden children's playpens and yet others were in arrangements of garden lattices lashed together). Not a moment too soon as we had a bad outbreak of myxomatosis in Dec. 1998 and going into the new year.
In 1999 I acquired Rojeana King, a two year old Castor Satin buck and decided to breed Satins. The only problem was that Scribonia, though having a lovely colour and good satinisation, lacked density in her coat so later in 2000 I obtained an Ivory doe, Rojeana Mummie, who had a lovely dense coat. Their daughter, Reguli Calpurnia, an Opal, did well on the show bench though was somewhat reluctant to have babies though when she did she looked after them. King eventually developed an abscess which never quite healed and he died, followed about a year later by Mummie. The other Satin bucks I had never bred so I sold all but Calpurnia as pets. Of her last litter, an Opal doe went to Adelaide to a breeder there and an Ivory buck went to a cavy breeder on the Central Coast where he leads a very spoiled life.
In 2001 I decided to breed Standard Rex instead of just admiring them as I had two nice Rojeana bucks, one Castor one Orange, so bought a Rojeana Black Otter doe in 2002. However, things didn't work out as Ottie was a terrible mother and I neutered her so she lived with Aurelius until her death some years later. Aurelius retired from the show bench as Champion Rojeana Aurelius but continued on as a patting bunny until he got too old. He died in July 2007..
Then I decided to breed Dutch, first using Millennium Maximus who was originally acquired for displays but has done well on the show bench. As the club's breeders of Dutch seem have disappeared again, I wanted to save this lovely breed from vanishing from Canberra as it did once before. However, none of his litters had anything showable and this was at far more than the normal ratio. He died and  his successors don't produce anything at all (contrary to rabbit-keeping lore about the virtues of Dutch as mothers, this doe has the maternal instincts of a bathplug and abandons her litters). So I don't breed Dutch.
Similarly with the British Giant. From being BritGi Central, all of a sudden Canberra had no breeders at all, so I went into breeding them, trying to keep this magnificent breed going, using as my main buck Petite Yokozuna who was originally brought for displays. I had a couple of litters and kept a buck, Reguli Bolo Gladius (who went Best Fur at the last CRCI show for the year) from one and a doe (Reguli Bolo Leuctra) from another.
In 2010 I gave Gladius, and his half sister Chateau to a breeder in Victoria as she had been having some success with a doe I had sold her. Canberra is too small and fickle a market, especially for giant rabbits (or any rabbit unless it's a cute 'n fluffy). I have kept Leuctra, now in retirement and Yokozuna died of old age on 26 December 2010.
In 2006 I acquired some Chinchilla Gigantas. That is to say, they might more accurately described as chinchilla-coloured Flemish Giants as that is their background. I have had a couple of litters from them. They are a work in progress as I need to darken the top coat and reduce the white triangle on the nape. Still they are very attractive (chinchilla has always been one of my favourite rabbit colours) with soft silky coats and they are of the right size to take an 'L" ring not an 'H' ring. This is another breed that needs to be kept going (it also really needs to be recreated like the French Lop). I kept one doe, Silver Dollar, from these litters as she had the best colour and have mated her back to her father, Silver Spar.
Her daughter, Reguli Silver Springs won a Merit Certificate in 2008. Unfortunately, she died suddenly after giving birth to a litter in May 2009 which did not survive. Silver Dollar continued to produce litters, including as dark silver doe, Reguli Silver Cloud. She in turn had a similar dark buck, Reguli Silver Surfer. The father was Sempronius, who replaced Silver Spar who died in 2009. Sempronius himself was euthanized in April 2011 because he had myxomatosis. . I kept two does from a later litter, Reguli Sempronia and Reguli Silver Circle. She was also mated to Reguli Snow Flurry, one of the White (Reguli Snows of Dalazar, a BEW in this case) British Giants she occasionally threw and a I kept the REW British Giant of the litter (Reguli Dalazar Snow Flurry). Silver Dollar died on 27 November 2011 at just over five.
I have now got some Dwarf Lops again (the buck I got a few years ago then another Orange buck in 2013 and a doe) as I want to breed Orange. So that makes three breeds.