BRITISH GIANTS
I originally bought a buck, Petite Yokozuna, in 2002 as a pet, a patting bunny in displays and to show. However, having found a lot of people locally had gone out of British Giants, I thought they would be a good second breed to have. It took me nearly a year to find a doe, after many frustrating months of false trails. I then got another buck and doe, both on the small side who were eventually petted out. I hope to keep the breed going as it would be a shame to see it disappear again. Unfortunately, the breeders of the three non-Petite animals are the type which never keeps records and never gives out papers so I have no idea what lines they are from. I ended up naming them myself. I do have quite lengthy records for the Petite rabbit, going back to the British imports of the early 1990s.
Their names reflected large or imposing things. "Yokozuna" is what a champion sumo wrestler is called as you build sumo wrestlers the same way you build British Giants: you feed 'em. .. "Bolo Queen" was from SF writer, Keith Laumer's popular creations, the Bolos, cybernetic tanks which could be the size of a city block. Her children all had the prefix "Bolo" and were named after one or other of these machines. I also used "Bolo" a a prefix for other British Giants of mine not related to her (as far as I know).
The exception is the Blue-Eyed Whites which turn up in litters of Chinchilla Gigantas (showing how pure those lines are - not!. These all carry "Dalazar" in their names (Dalazar is the continent on Skaro where the Daleks originated).
I have passed most of my Brown/Grey stock on to a breeder in Victoria, who came to Canberra to collect them. The market for Giants is small and fickle so it is difficult to find homes for excess stock. I just have Ice Diamond left (REW). I NO LONGER BREED THEM
A detailed article on British Giants can be found
here.
BUCKS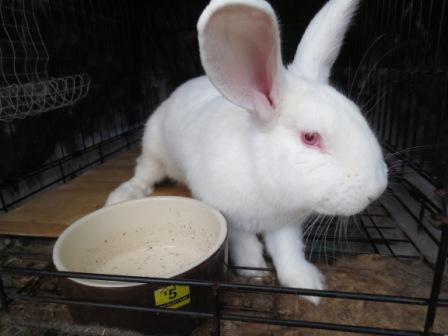 Redwood Ice Diamond, born Oct. 2012 (6 months old in this photo)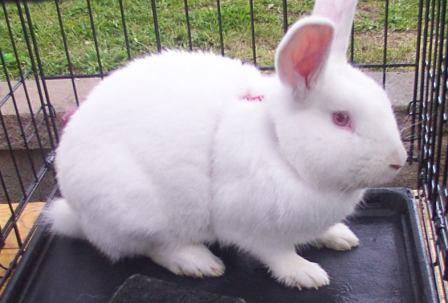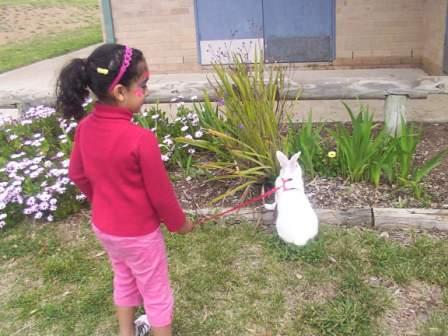 Reguli Dalazar Snowflurry, Snows of Dalazar's son, mother Reguli Silver Dollar (Chinchilla Giganta), born 16 Dec. 2010 died of heat exhaustion January 2013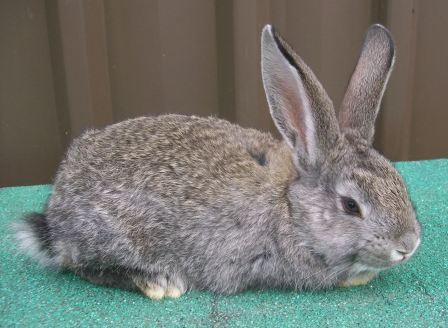 Obsidian Snowflake Bolo Lord Kendrick, son of Reguli Silver Surfer (Chinchilla Giganta) and Obsidian Snowflake Mouse Love (British Giant). Born Nov. 2011 (Photo Bec Drinkwater) He is to be an outcross for my Chinchilla Giganta lines as I have no British Giant does anyway.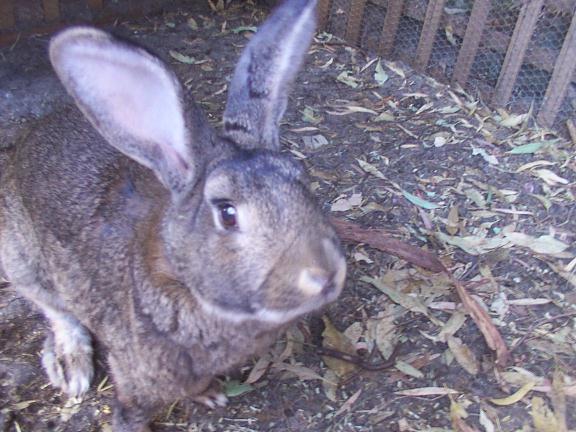 Petite Yokozuna (Brown/Grey) born 20 May 2002 Died of old age on 26 December 2010.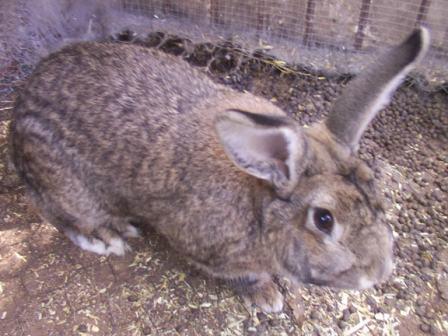 Reguli Bolo Gladius (Brown/Grey) born 30 Nov. 2005 son of Yokozuna and Bolo Queen. Gone to a new home in Victoria.
DOES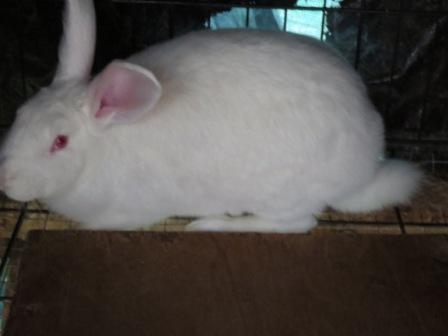 Reguli Dalazar Ice Queen, born 4 Dec. 2012, daughter of Reguli Silver Surfer and Obsidian Snowflake Silver Lady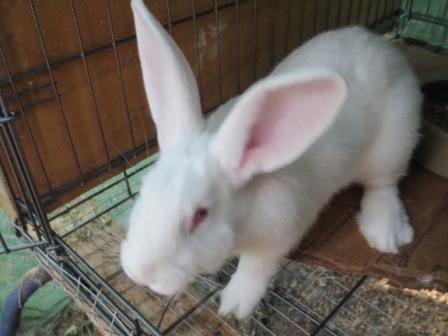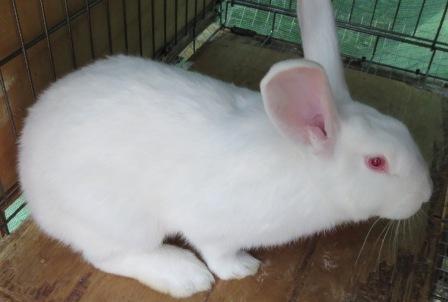 Obsidian Snowflake Dalazar Snow Drift daughter of Reguli Dalazar Snow Flurry and Obsidian Snowflake Maus. Sold to a breeding home.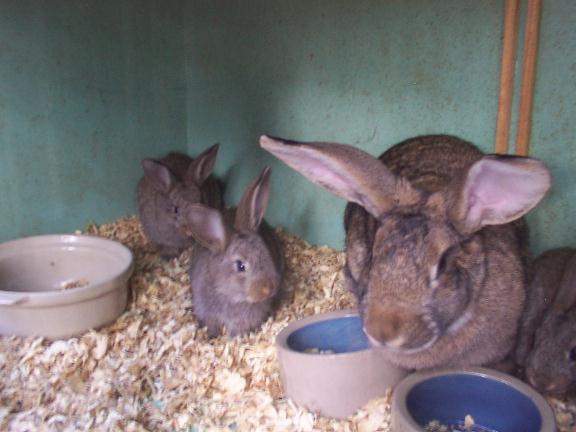 Venetia Bolo Queen (Brown/Grey) with some of her litter. Yokozuna is the father. Died 8 July 2010.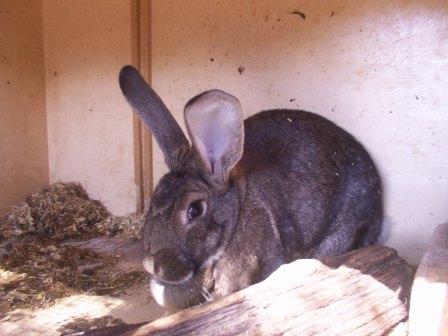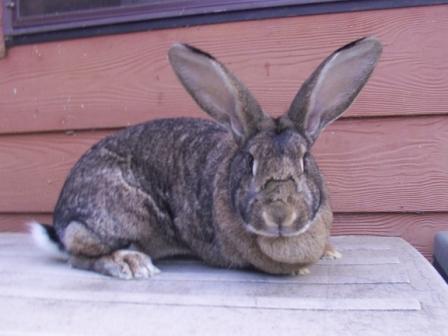 Ch. Reguli Bolo Leuctra (Brown/Grey

) born27 Sept. 2006 daughter of Yokozuna and Bolo Queen Leuctra aged aged 2 years (2008)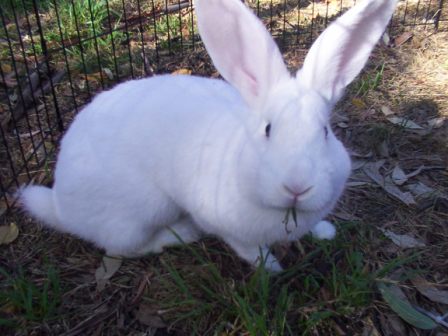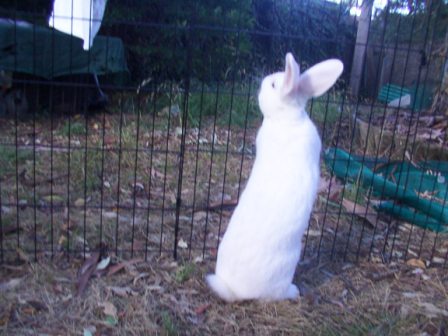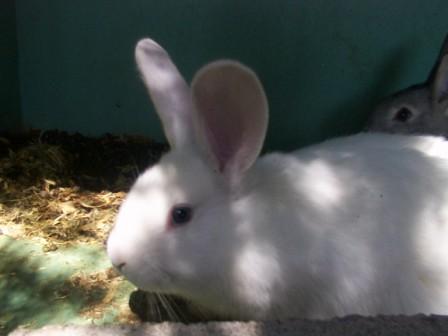 Reguli Snows of Dalazar (otherwise known as "BWB" - Big White Bunny). Born 28 August 2007. He was a Blue-Eyed White, seven months old when this was taken so still has some growing to do. The photo on the far right is of him as a baby. He was euthanized on 1 April 2011, a victim of myxomatosis.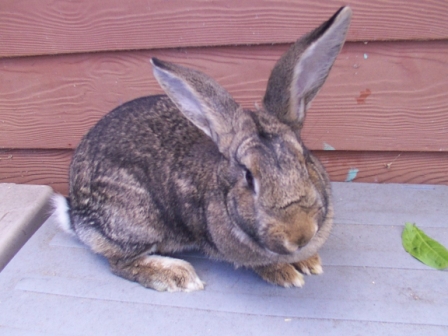 Reguli Bolo Chateau, another daughter of Bolo Queen and Yokozuna, born 22 Nov. 2007. She is nearly 10 months old in this photo. She had her first litter on 11 November 2008. Gone to a new home in Victoria.
PLEASE BE AWARE THAT THESE ARE LARGE RABBITS. THEY EAT MORE THAN TWICE WHAT A MEDIUM SIZED RABBIT DOES (DWARF LOP, DUTCH, ETC.) AND THREE TIMES WHAT A NETHERLAND DWARF OR A POLISH DOES. THEY NEED BIG CAGES WHICH NEED CLEANING. THEY CAN BE A LOT OF WORK. SO THINK TWICE BEFORE BUYING ONE. DO YOU HAVE THE SPACE, THE TIME AND THE COMMITMENT? THESE ARE LIVING CREATURES NOT NOVELTY ITEMS BECAUSE OF THEIR SIZE.
I have become very sick of nitwits who buy these Giants from me then, when the novelty of owning a Big Bunny wears off, get sick of them or can't cope with them within a space of two months or even move to Queensland! So the poor things are passed from pillar to post and not one of these buyers have had the courtesy to get back to me. So now I have a contract which requires the purchaser to contact me if they cannot or will not look after them anymore. Equally annoying are those who are all over me and in my face about buying a Giant and then just as suddenly lose interest and don't bother to tell me, leaving me to wonder not only what happened to good manners but commonsense.
PLEASE NOTE THAT I DO NOT SELL INTERSTATE IF IT INVOLVES SHIPPING
Home Chinchilla Gigantas Dwarf Lops