CHINCHILLA GIGANTAS
I have always liked the chinchilla colour and one of my first pet rabbits was a Chinchilla crossbreed. It was a colour I always wanted in Dwarf Lops but was not able to source any. In the late 1990s, Jean Hill, a member of the Canberra Rabbit Club, had an imported Chinchilla Giganta doe she used to bring to shows in a big tub. Unfortunately, this doe would not breed so that was the end of ChinGis in Canberra.
More recently I stewarded some at the 2006 Royal Easter Show and as a result, got in contact with a breeder in Sydney who gave me the last of their stock. These are derived from Flemish Giants, so are really a work-in-progress. They aren't as heavy boned as the Flemish as they take 'L' rings not 'H' rings.
I was also able to obtain another buck from a breeder in the Canberra region who is working to recreate the breed as Christopher Wren (yes, he was related to the bloke who built St Paul's Cathedral) originally intended, that is a good meat and fur rabbit, not a "mandolin-shaped" fancy rabbit. Think Grace Wren's Double Ch. Show Girl or recent entrants at the Bradford (cf Fur & Feather no. 55, Dec. 2006 p. 11) rather than some illustrations you see with a big dip in their backs.
There is more information on the breed here .
I have had a couple of litters and some are not bad to be going on with. A problem is a certain amount of rufousing which usually fades as the kit gets older. Another is too pale a coat. Any that retain any rufousing beyond a certain stage or who have a "ghost chinchilla" look are petted out. One doe, Reguli Silver Springs, gained a Merit Certificate in 2008. Her mother, Reguli Silver Dollar, has produced a number of quite reasonable ChinGis but I would like them darker. I would like to darken the top coat as they should be darker than the Standard Chinchilla, and reduce the white triangle on the nape as too large a triangle is a fault. I kept Reguli Silver Cloud, one of Silver Dollar's daughters, as she has a dark top coat, perhaps too dark. I haven't done as much work with them as I would have liked again because of the small and fickle market for Giant rabbits in Canberra.
Silver Cloud produced a buck, Reguli Silver Surfer, as dark as she was, in November 2010. She herself, and Sempronius, the buck I was using after Silver Spar died (in 2009) had to be euthanized, victims of the myxomatosis plague which hit Canberra around April 2011. This put back the breeding program because, apart from Silver Dollar, I only had ones far too young to breed. Those I kept though one doe, Sempronia, refuses to allow a buck tom mount her. She thinks it's the other way round. But her sister who has a darker coat, has produced some nice kits plus I was given another Chinchilla Giganta doe from Flemish Giant lines from Loren Stavens of Dusty's Bunnies.
More on my experiences breeding Chinchilla Gigantas can be found here.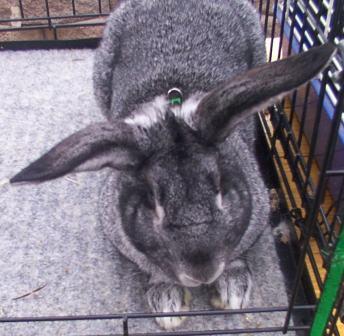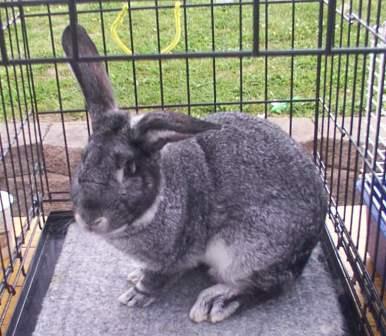 Reguli Silver Surfer, son of Sempronius and Reguli Silver Cloud. Born 12 Nov. 2010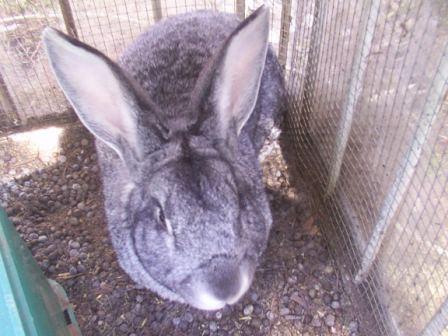 Silver Spar who was born late 2005. He walked on a lead. He died 20 Sept. 2009.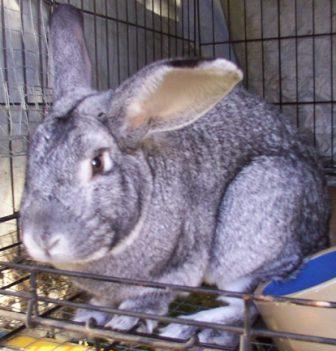 Sempronius born early 2009. He also walked on a lead. He was euthanized because of myxo in April 2011.
DOES
I began with three: Beryl and Audrey who were nearly four; Samantha who was nearly three. Fortunately Audrey's litter had a couple of reasonable does in it to be going on with. as I sold the older does and moved on Samantha as she has never had a litter in over 12 months though has had successful matings. She was found to have a tumour hence her infertility and was euthanized. Of Audrey's offspring, I kept Silver Dollar, daughter of Silver Spar. Silver Dollar had many litters, including Silver Springs who did the best on the show bench so far, and Silver Cloud who had a nice dark top coat. At present I have two young does, Silver Dollar's daughters, Reguli Sempronia and Reguli Silver Circle. They will be joined in January 2012 by Obsidian/Snowflake Silver Lady (father is Reguli Silver Surfer and mother is Obsidian Snowflake Mouselove, British Giant)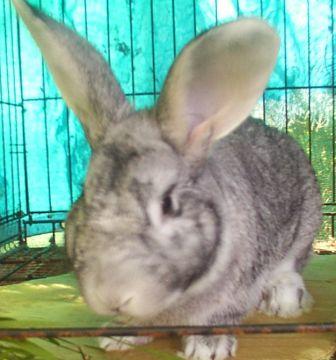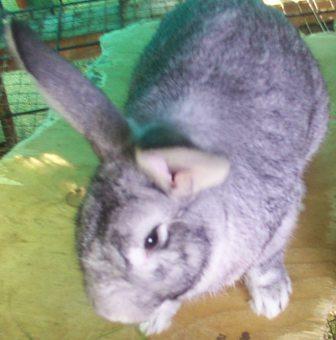 Reguli Sempronia, daughter of Sempronius and Reguli Silver Dollar, born 5 April 2011. It's almost impossible to get a photo of her, she won't stay still (she's more like an Abyssinian - cavy or cat, take your, pick they are equally as impossible). I managed to distract her with some grass. This was taken 2 January 2012, so she's nearly 9 months.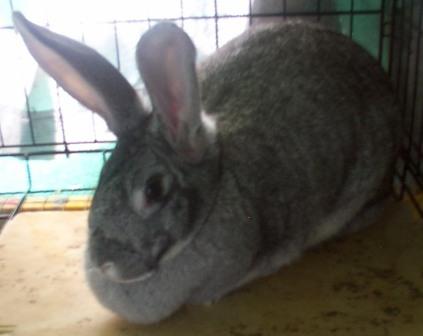 Reguli Silver Circle, litter sister of Sempronia. At least she knows how to stay still. Also taken 2 January 2012.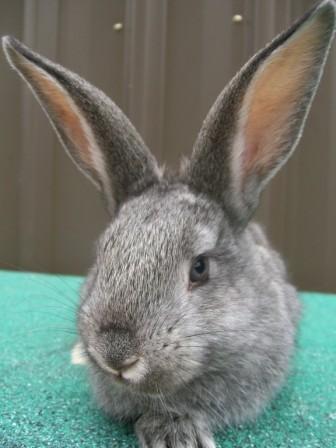 Obsidian Snowflake Silver Lady, father Reguli Silver Surfer, mother Obsidian Snowflake Mouse Love (British Giant), born in Nov. 2011 (photo Bec Drinkwater) Came to Reguli on 15 January 2012
Litter of Silver Circle and Silver Surfer born 7 March 2012. This was taken when they were 5 weeks old. Two bucks and a doe. Silver Circle is the large rabbit in the corner in the bottom photo.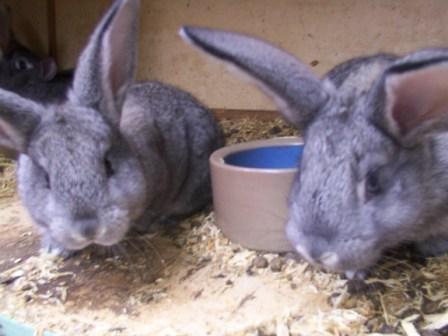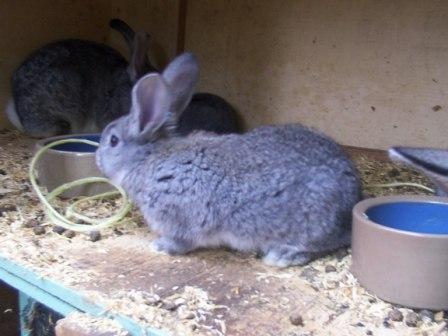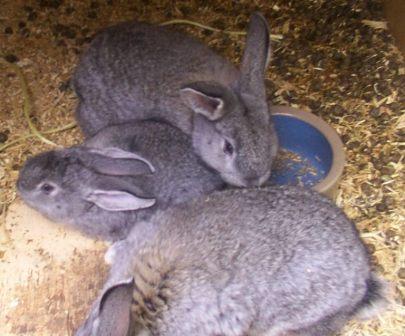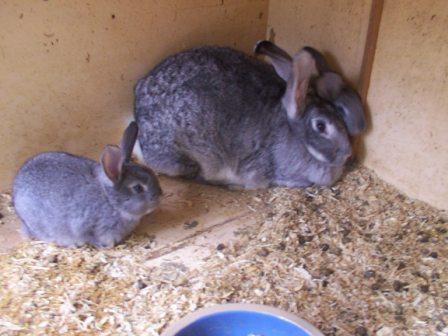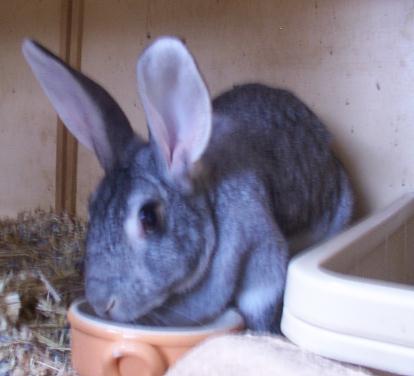 Audrey (eating as usual)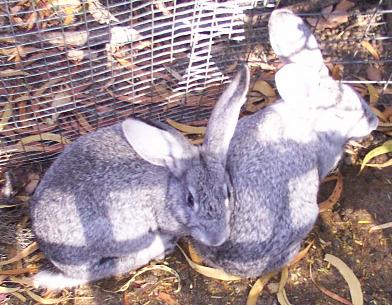 Two of Audrey's kits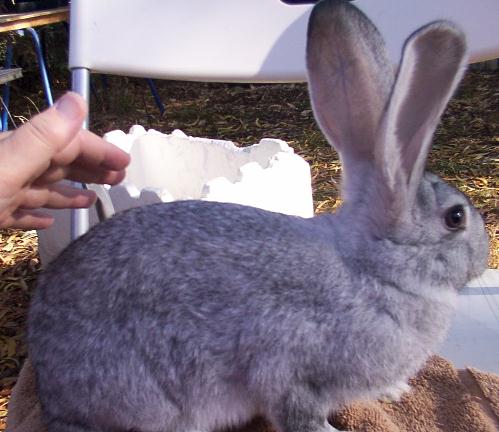 One of the does from her litter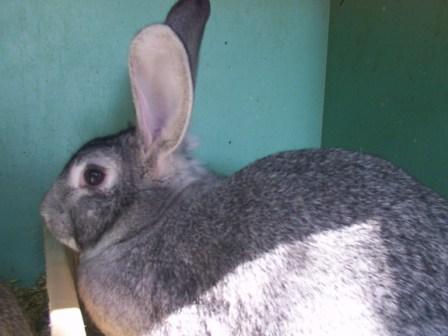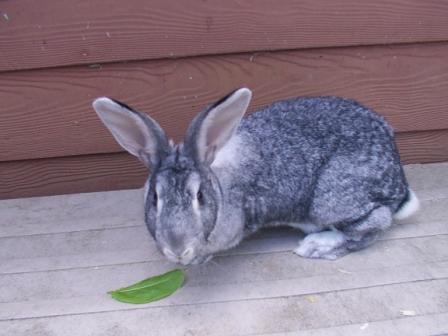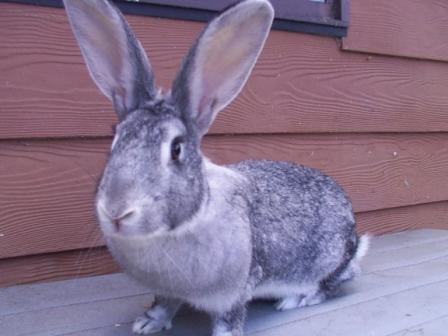 Reguli Silver Dollar (born 3 Oct. 2006, died suddenly 27 Nov. 2011), daughter of Silver Spar and Audrey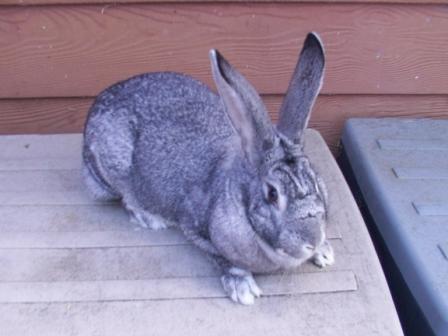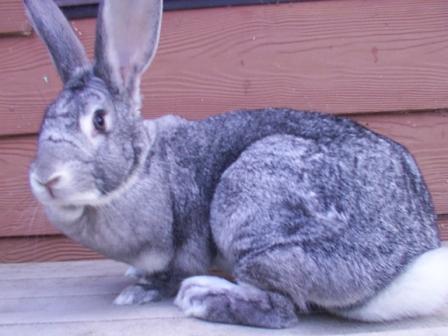 CoM Reguli Silver Springs, daughter of Silver Dollar and Silver Spar (born 28 Dec, 2007) aged a bit over 8 months. Died suddenly 15 May 2009.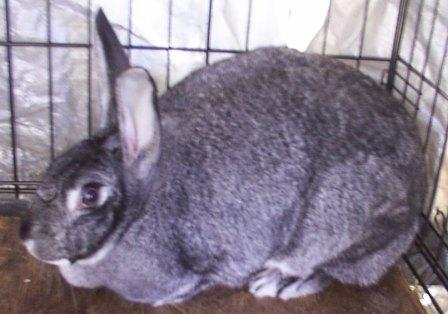 Reguli Silver Cloud, daughter of Silver Dollar and Silver Spar, born 15 October 2008. Euthanized because of myxo in April 2011.
PLEASE BE AWARE THAT THESE ARE LARGE RABBITS. THEY EAT MORE THAN TWICE WHAT A MEDIUM SIZED RABBIT DOES (DWARF LOP, DUTCH, ETC.) AND THREE TIMES WHAT A NETHERLAND DWARF OR A POLISH DOES. THEY NEED BIG CAGES WHICH NEED CLEANING. THEY CAN BE A LOT OF WORK. SO THINK TWICE BEFORE BUYING ONE. DO YOU HAVE THE SPACE, THE TIME AND THE COMMITMENT? THESE ARE LIVING CREATURES NOT NOVELTY ITEMS BECAUSE OF THEIR SIZE.
I have become very sick of nitwits who buy these Giants from me then, when the novelty of owning a Big Bunny wears off, get sick of them or can't cope with them within a space of two months or even move to Queensland! So the poor things are passed from pillar to post and not one of these buyers have had the courtesy to get back to me. So now I have a contract which requires the purchaser to contact me if they cannot or will not look after them anymore. Equally annoying are those who are all over me and in my face about buying a Giant and then just as suddenly lose interest and don't bother to tell me,leaving me to wonder not only what happened to good manners but commonsense.
PLEASE NOTE THAT I DO NOT SELL INTERSTATE IF IT INVOLVES SHIPPING