SATIN CAVIES
I had Buffs and Satin Buffs on and off for a number of years. Initially I wanted to breed Self Buffs but the boar I bought died before fathering anything and I was unable to source other boar at the time. Fortunately, Jo Livingston had a Satin Buff boar, Canberry Beau-Napart, she could sell me. (It happened that I'd boarded his father, Canberry Beau and his wives while Jo went overseas a few years before). I put him with the two Self Buff sows. They must have been carrying Satin way back because instead of getting a litter of Satin carriers, I got a couple of Satins as well as carriers. This was in 2004. I kept one sow, Reguli Kaguyahime and one boar, Reguli Hideyori and showed them. Hideyori was petted out as he got too dark for a Buff. In the meantime, I went out of Self Buffs as the stock around all had terribly light bellies and dark tops, even some of mine. I also sold Beau-Napart who is still going strong in a pet home.
Kaguyahime continued to have a successful show career, often going Best Satin and once Best in Show. She made up to Champion in 2006. It seemed a shame not to breed from her so I got another lovely boar from Jo, Canberry Sovereign. He and Kaguyahime had a litter in 2007 but after that she faded and died, leaving behind a boar, Hidetada and a sow, Teruhime. Teruhime inherited the Dark-Eyed Golden gene that runs in Kaguyahime's background and was quite dark for a Satin Buff.
Both Sovereign and Hidetada were put with Canberra Barbados, a Self Buff, and each time she has had a "rainbow litter" consisting of very pale Buffs and dark, almost Golden cavies who eventually fade out to an acceptable Buff. Barbados should have been called "Barbarian" as she bullies the other sows if there isn't a boar around. I put her in with a gentle little Rex sow and she started hitting her over the head with her chin! She then lived with an equally stroppy Coronet sow, Lady Rokujo. After an interesting interval where Barbados buried Rokujo under the cage bedding, they got on well and lived together until Rokujo died of old age. Shame, as she has a lovely face. She now lives with Reguli Donna Noble, another Self Buff and Symphonia Phryne Fisher, a very determined Black Dalmatian.
Both boars were also put with Torden Daisy, another Self Buff but her background was chiefly Pink-Eyed White, with some Saffron and Buff and she and all her litters were all too pale.
In May 2008, I acquired a Self Buff boar, Bumbora Claude Louis, who was the correct colour and used him with Daisy, then her two daughters. The offspring were a better colour and I used them in the Satin breeding program. Later on, in August, I was able to acquire Gilded Roselle, a Satin Buff sow who had Kaguyahime behind her but sadly died on 8 Aug. 2009. The Buffs I then got were the right colour. In addition Kaguyahime's daughter, Teruhime gave me two very nice Satin boars, they just weren't Buff. Reguli Akitada was a Golden and Reguli Hidetora is a Saffron.
In May 2011 I bought a Golden sow to put with Akitada as I have always like the Satin Goldens. She has had a litter of three Goldens (presumably carriers) and I have kept the only sow. I cut back on my Buffs as the problem with Self cavies is that when you breed them, get, gosh, a litter of Buffs (or whatever) which you can't tell apart. (Which makes me wish cavies had leg rings like rabbits) Give me Abys or longs any day.
Unfortunately, I never did get any more Golden Satins and Akitada faded and died on 30 July 2012, the same day as Reguli Rose of Shalimar. I have only one Satin left, a Satin Buff boar, Hidemaru, son of Akitada and Rose of Shalimar. He died on 17 April 2013, probably as a result of "the Satin thing" (osteodystrophy).
I have decided not to breed Satins any more. They don't live long enough, averaging about three years and some sows seem to have problems producing a live litter. Shame as they are such pretty pigs.
BOARS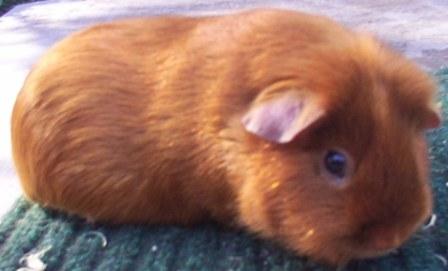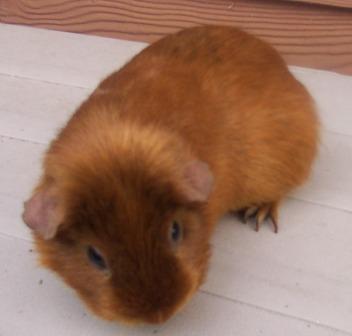 Reguli Akitada Golden Satin, born 16 June 2009, son of Reguli Hidemasa (dark Self Buff) and Reguli Teruhime. Died 30 July 2012.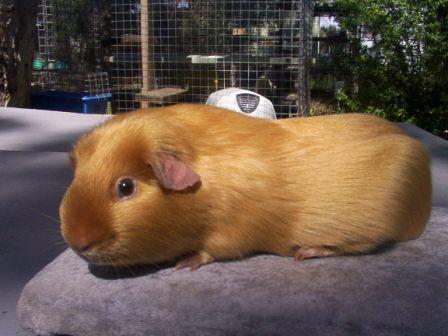 Canberry Sovereign (7 June 2005-29 August 2008) A short but merry life as he never had the stress of the show table but spent his days in with the girls.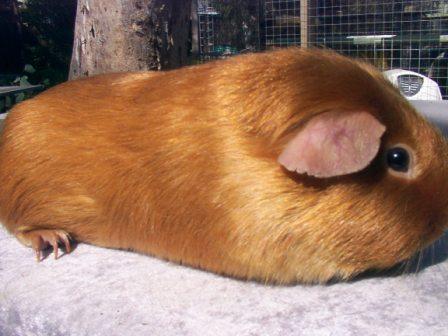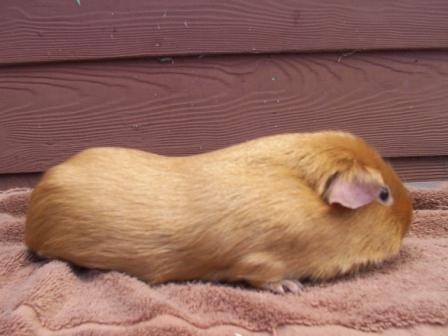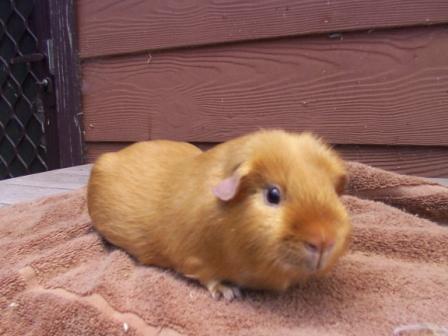 Reguli Hidetada, Sovereign's son, born 25 Feb. 2007, died 19 March 2010. He followed in his father's footsteps as he was sent out to stud for much of 2008, only re-appearing on the show table at the National.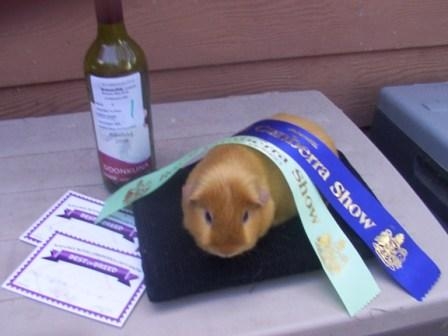 Hidetada with his "loot" from the Royal Canberra Cavy Show 2009. He went Best of Breed and Reserve in Group in both shows. He wasn't too impressed as none of it was edible but I enjoyed the bottle of Doonkuna 2008 Riesling (which itself had won a prize at the Actew/AGL Canberra Regional Wine Show).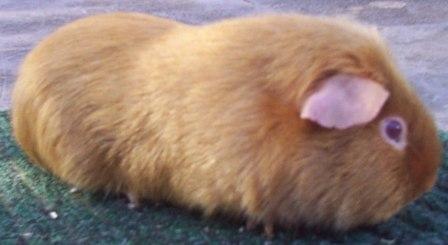 Reguli Hidetora, Saffron Satin born 25 Aug. 2009, son of Reguli Hidemasa (dark Self Buff) and Reguli Teruhime. Now resides at Afflexian Stud in Yass where he has fathered a litter of mostly Satins for Phillip.
BOARS (SELF)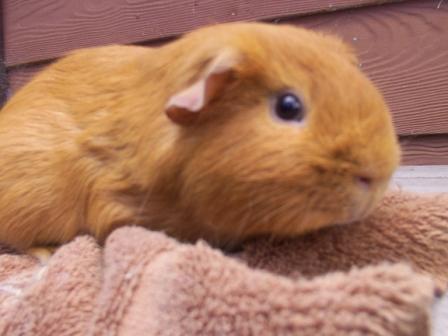 Bumbora Claude-Louis born 11 Dec. 2007. Died suddenly 31 March. 2012.
SOWS (SATIN)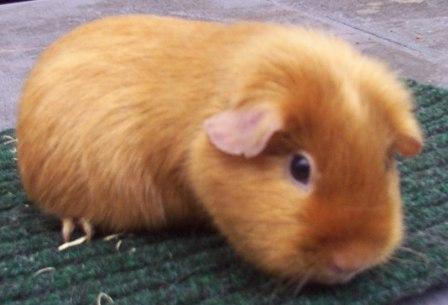 Reguli Rose of Shalimar born 4 March 2009, daughter of Reguli Hidemasa (dark Self Buff) and Gilded Roselle. Died 30 July 2012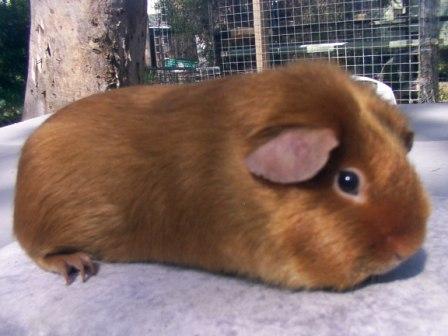 Reguli Teruhime born 25 Feb. 2007 daughter of Canberry Royal Sovereign and Reguli Kaguyahime (Hidetada's sister). Died 10 April 2011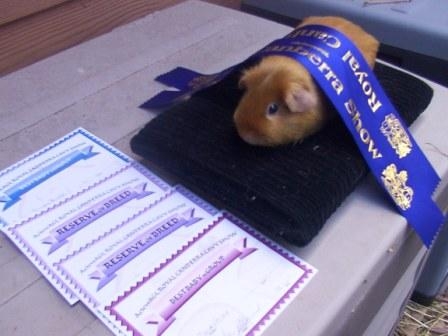 Reguli Terukahime born 21 October 2008, Teruhime's daughter and Hidetada's niece. She went Best Baby Satin and Reserve of Breed in both shows at the Royal Canberra Cavy Show on 28 March 2009. Died 2 Dec. 2010
SOWS (SELF)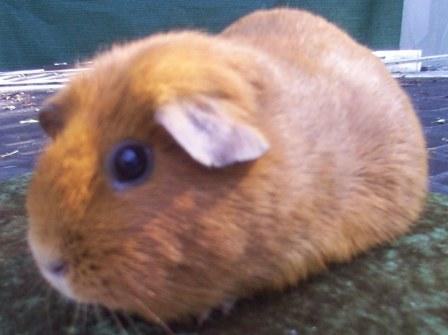 Dark-Eyed Golden Sow (In bright sunlight so looks bit paler than she is). She's a Gemstone, but is all I know about her as the breeder I got her from (not Maria) didn't give me any papers.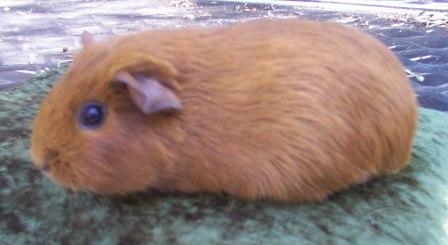 Her daughter, Reguli Akiba, father is Reguli Akitada, born 6 October 2011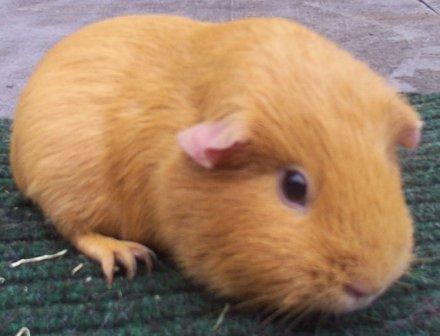 Reguli Donna Noble born 25 Oct. 2008, daughter of Bumbora Claude-Louis and Reguli Chidori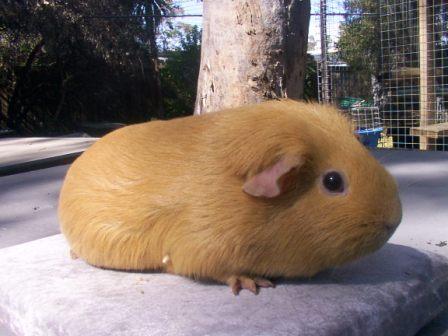 Torden Daisy (28 August 2006-24 August 2008)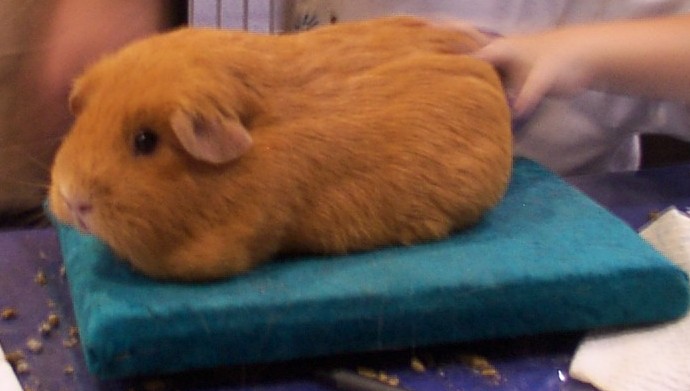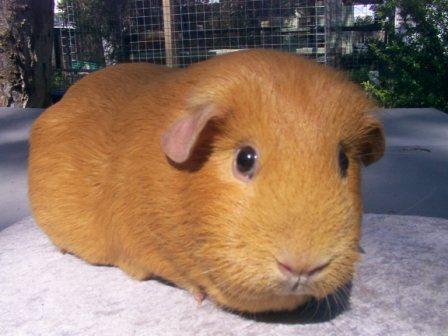 Canberry Barbados born 19 April 2007