DALEKS DOWN-UNDER
I really didn't want to use such a naff title but couldn't think of anything that was equally as pithy in getting the idea across.
Dr. Who has always had a strong Australian connection. Ron Grainer (theme composer), Dudley Simpson (incidental music), Anthony Coburn (writer of the first story), Bill Strutton (another writer), director Lenny Mayne, actors Janet Fielding, Kevin Lindsay and Ray Barrett (plus a number of minor players in Moonbase and Enemy of the World to name but a few stories), Dalek operators Robert Jewell and Kevin Manser, are or were all Australians. There has been a story set in Australia in the future and an Australian companion. Some Dr. Who actors came to live in Australia (Katy Manning and Louise Pajo, and Mark Strickson for a while).
This is reflected on the other side of the small screen as well. Organised fandom began early here, not long after it did in Britain, though quite independently. The first fanzine, Zerinza, and fan club, the Australasian Dr. Who Fan Club, began in 1976 in response to the ABC's decision to cease buying any more Dr. Who after Revenge of the Cybermen, a decision which was soon reversed. Even before the first issue of Zerinza there had been a special issue of the Tolkien-themed South of Harad, East of Rhun fanzine entitled Macra which was devoted to Dr. Who. This was produced by Jon Noble in 1975. Thereafter South of Harad, East of Rhun always carried some items on Dr. Who and one issue was a special Dalek issue.
Needless to say, Daleks have featured prominently in that fandom. Anthony Howe, founder of both the Australasian Dr. Who Fan Club and Zerinza is a big Dalek fan as the name of his zine implies. Many people have built Daleks in one form or another over the years. I made one around 1974 out of balsa wood and polystyrene about 30 cm high as a scaled down version of the plans given in the Radio Times special published for the show's 10th anniversary. When I was still at school in the 1960s I made el-cheapo versions using shuttlecocks (the type with feathers) for the body and attaching matchsticks for the eyestalk, gun and arm to these with plasticine. More interesting because more visible are the full-sized replicas many fans have built.
The oldest I know of is Melbourne University Science Fiction Association's (MUSFA) blue and silver Dalek which was built for and used in an amateur film they made in 1975. The next Dalek I am more familiar with. This was "George", a splendid black and orange specimen whose smoothly rounded dome was actually a wok! This was built by Sydney University Science Fiction Association (SUSFA) in 1976. George was powered by a tricycle and boasted a ring-modulator and a fire extinguisher as an 'exterminator'. It was built at Kim Lambert's house in Bankstown by engineers Alan Sherwood and Phil Atcliffe but quite a few others also had a hand in its construction. Someone from the Sydney Conservatorium of Music claimed it made the perfect conductor having a built-in baton and able to command the audience to "Ap-plaud" – Sydney audiences being notorious for sitting on their hands in those days.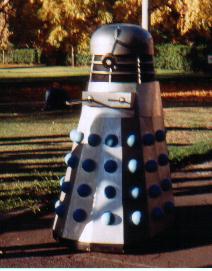 MUSFA Dalek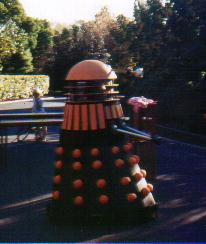 SUSFA Dalek "George"
George's first major appearance was at Unicon 2 at the University of Melbourne at Easter 1976 where, piloted by Gregor Whiley, it took part in the First Great Dalek Race. The other two competitors were the MUSFA Dalek who was a little smaller and accessed by removing a side panel instead of taking the top off , and the University of Adelaide's pink and green one which as still being finished off at the starter line.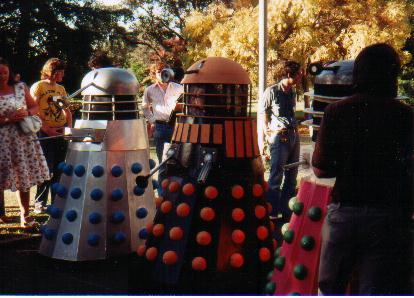 The MUSFA and the SUSFA Daleks were neck and neck for most of the race with the Adelaide Dalek left far behind. There was a long downhill slope, then an obstacle course requiring sharp turns which is where George's tricycle gave it the edge (the others had castors). However, when it came back through the obstacle course, it encountered the MUSFA Dalek on its first time through and there ensued a stalemate as neither would give way. This was resolved by George in typical Dalek fashion. It 'exterminated' the opposition and thus made it first to the finish line. The MUSFA Dalek overheated and the operator had heat exhaustion while the Adelaide Dalek limped slowly to the finish line.
George's other major appearance that year was on 24 August at the protest outside the ABC in Elizabeth Street in Sydney. Tony Howe, Dallas Jones, Kerrie Dougherty, Greg Platt (inside George) and twenty other fans rallied outside the ABC offices protesting the decision not to buy any more Dr. Who episodes. George attempted to enter the building but was thwarted by the receptionist. However, the demonstration drew crowds and heads appeared at windows, even attracting a passing policeman in a police car who was also a fan. The Dalek gave interviews (ABC news and 2JJJ) and chanted slogans such as "Exterminate Sir Henry Bland" (the then Chairman of the ABC), "Exterminate ABC programmers".
Also in 1976 (and for some years afterwards), the SUSFA Dalek was in an amateur film, Daleks Invade Sydney, a comedy which was never completed as it was dogged by delays and problems with the lead actor having a heart attack.
1976 was a big year for Daleks at the University of Sydney as, apart from George's activities, Daleks Invasion Earth was screened at the Stephen Roberts Theatre in July and a special edition of the student rag, Honi Soit was published entitled, Dalek Soit. This featured such headlines as "Dalek coup" and the claim the Vice Chancellor was their puppet, accompanied by a photo of the SUSFA Dalek multiplied photographically to look like an army in the Quadrangle. There was also a photograph of it alone 'exterminating' a student outside the enrolment office.
At Easter 1977 the Second Great Dalek Race took place at Unicon 3 at the University of Adelaide. I don't know who won – I wasn't there.
Here is another Dalek, made around the same period by Sydney fan, David Tremont. This one is about a metre tall.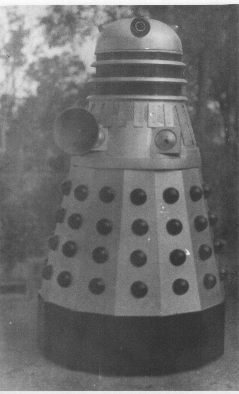 Around 1978 or earlier Mark Ferguson of Tasmania and his friends made a film, Vengeance of the Daleks using six inch model Daleks, moved by cotton thread and sporting guns which were fire crackers, and an eight inch Tardis they had built. The film was silent and ran eight minutes. In 1978 he was writing the script for a 16 minute film, The Dalek Invasion, a comedy.
An ABC-made Dalek was on hand at Sydney International Airport on 2 February 1979 to greet Tom Baker on his arrival and also appeared with Baker on The Mike Walsh Show. This Dalek was from a display the ABC did in Brisbane in 1978, probably the Dr. Who float in the Warana Festival, in which case the designer was from Sydney but the ABC had also asked for advice from the Queensland Dr. Who Fan Club. It also appeared with Baker at the ABC Music Complex in Brisbane on 12 February 1979. Two fan-built Daleks were to appear with Baker at Doncaster, Victoria also in February but he vetoed this.
In South Australia in the early 1980s Jeff Harris completed two-thirds of a script for a fannish film featuring Daleks which was never made through lack of time. One Dalek was built but time and the weather finished it off.
A rather strange looking Dalek appeared with Baker on his second visit to Australia at his book-signing at Roselands shopping centre in Sydney on 28 February 1980.
On 2 January 1981, a Dalek built by the Tasmanian Science Fiction Association appeared in a street parade in Hobart.
The prize in The Age's 1982 competition to unscramble the titles of Target Dr. Who books was one of the life-size cardboard Daleks used to promote the books. In Bundaberg in the same year a flower show featured scenes from the movies and included Dr. Who which was represented by the Doctor, the Tardis and the Daleks.
Fan-made Daleks also featured alongside Peter Davison on his visit in 1983. One, constructed by Luigi Cantoni and Grahame Mann of UNISFA (the University of Western Australia's science fiction club) met him at the airport and came to the champagne breakfast and book-signing in Perth in April 1983. Davison's appearances in Brisbane were accompanied by Daleks supplied by fan James Collins (7-9 April) and SUSFA's Dalek, George, appeared with him at the City Myer store (11 April). Another fan-built Dalek plus Davison were at Blacktown Myer, Penrith and Carlingford. The South Australian Dr. Who Fan Club's Dalek appeared with Davison in an interview on The State We Are In TV program. Apparently its eyestalk fell off and Davison picked up, put it to his eye and said, "I see no ships" while the Dalek squawked 'Malfunction! Malfunction!" Davison put it back with the comment, "You can't say I'm not a benevolent Doctor." Also in 1983, ABC Chairman, the late Ken Myer posed with Daleks on the front page of the West Australian on 23 November.
In September 1986, the cash-strapped ABC put up for auction its Brisbane Dalek. It had already sold its Tasmanian one which appears to have gone to the South Australian Dr. Who Fan Club in 1984 for $200. Made of plastic and polystyrene, the Brisbane one disappeared from ABC Toowoomba in October and a ransom note was sent to TV Manager, Phil Wallingford, demanding the ABC continue reruns of Dr. Who and consider producing the series in Australia. It was eventually found the next day in an air-conditioning plant room in the Toowoomba studios and returned to the foyer, though locked in the office overnight. It was to be refurbished before finally being auctioned off. The Brisbane coordinator of the Australasian Doctor Who Club, Matthew Crocker, thought it should either be donated to the club as they had helped the ABC build it in 1979 (when they were called the Queensland Dr. Who Fan Club) or given to the Queensland Museum "because it is part of TV history."
From 1987 to 1996 and then for the last time in 2000*, fan-built Daleks featured in Canberra's Twilight Parade (part of the old Canberra Festival in March). The first one was built by Andrew Corson and took him years. Others were built by Stephen Bennett. They were all extremely accurate and had ring-modulators and pedals. By 1994 there were six of them and a Davros in the parade. The Black Dalek and the Davros were built by Stephen Bennett.. They were immensely popular with the kids as they would announce things like the city of Canberra had been taken over by the Daleks, the supreme beings of the universe, and that the people of Canberra would be put into slave camps. Children would call out from the sidelines, "Exterminate me!" or "Say 'exterminate'". Unfortunately, Stephen's Black Dalek and Davros were destroyed in the January 2003 firestorm as they werel at his house for storage and that was burnt. An attempt was made to get a grant from the bushfire recovery program to rebuild them but it was knocked back.
However, the remaining five Daleks, built by Andrew, are still active (visit Andrew's website to see where they have been, what they are doing now or to hire them). Two of them appeared in the ANZ Bank ad, along with Robby the Robot and the "Bubble Headed Booby" from Lost in Space. In 2009 the Black Dalek was rebuilt.
SF MAD, the Canberra fan group of which Andrew and Stephen were members, had a 'Dalek Birthday' and a 'Dalek New Year' celebrated in August ("Because that's when it is") in 1986. The Australasian Dr. Who Fan Club had a 'Dalek Day' on 30 October 1988.
There have been a couple of filksongs featuring Daleks, neither being of much wit or literary merit. One was in South of Harad, East of Rhun no. 7 (mid 1970s) and was entitled, "What do you do with a drunken Dalek". Another was "Oh, ma Dalek" (to the tune of Clementine) which featured at Aussietrek 2 in 1980.
In the late 1970s fan artist Mike McGann created a t-shirt with a Dalek and the word 'Exterminate" angular script above it. I wore it to a Unicon in Sydney in 1979 and when I went into a Greek coffee shop for a sandwich got asked if I was Greek. Somewhat puzzled , I said, "No." Then I noticed my t-shirt. The writing did look a little like Greek lettering. Still on the subject of Daleks and coffee shops, I remember having coffee with Tony Howe wherein he described a dream he had of Daleks surrounding Parliament House in Canberra and exterminating it. This narrative was accompanied by a Dalek voice and one hand against the forehead imitating a Dalek eye-stalk. The looks on the faces of the workmen several tables over were priceless.
More recent items of clothing to appear are not fannish but designed under licence by a company in Windsor, NSW. These are a Dalek apron and a Dalek oven mitt. They can still be bought at ABC Shops.
Finally, in the Far Side of Weird Department, there was a 'Dalek' in the Gay Mardi Gras parade in Sydney in 1987. This was someone wearing a fabric Dalek costume like a frock. The skirt of the Dalek base comes to just below the knees so you have a pair of stock clad legs in high cork-soled shoes below it. This apparition is also wearing a dark net shawl over the Dalek 'shoulders' and carrying a handbag. A Dalek 'head' completes the picture. Actually not a bad representation of a Dalek despite the oddities. Shame I only have a photocopy which won't scan well as it has to be seen to be fully appreciated.
Also in the same department there comes from 1993 an ad from the Hellfire Club in Melbourne which offered on Sunday 7 November a "Dr. Who and the Daleks Bondage Party" with giveaways of Dr. Who videos from Polygram. From the blurb it appears the Daleks are not the victims (unlike in the episode "Dalek" or indeed the Big Finish audio play Jubilee) but are the ones carrying out "evil bondage and discipline experiments" on a "gaggle of young slaves" whom the Doctor has to rescue. Below is the accompanying artwork, which says it all, doesn't it?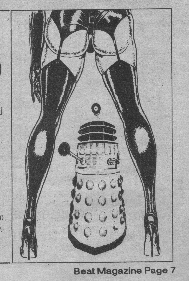 *

With thanks to Andrew Corson for supplying additional information and corrections on the Canberra Daleks.