ROYAL CANBERRA SHOW 2003 CAT SHOW (ALL BREEDS DESEXED)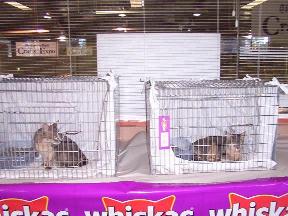 Aureate Hatshepsut and Aureate Royal Hathor in their cages before the show starts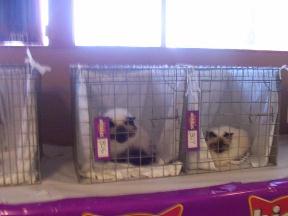 Some Birmans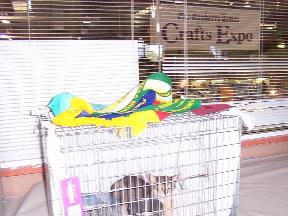 Aren't I clever? Look at my ribbons. Hatshepsut after judging.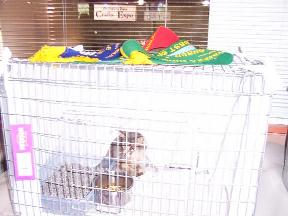 Hathor is not so sure - I dunno about these shows, even if you do get ribbons. I'd prefer a bag of biscuits.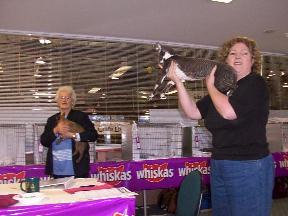 Another triumph for Indy with Sally Gordon his proud owner. Behind is Doris Leetham with her Chocolate Burmese spay Grand Champion Aegir Mi Chi Sukia who also had a very good day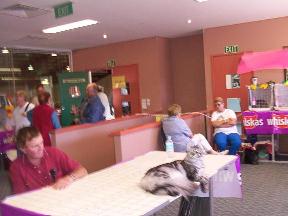 An overview of the room in the Coorong Pavilion with Coolcoons Mainely Mine (aka Mickey), Silver Tabby Maine Coon decorating a table while his doting owner, Dave Smith, looks on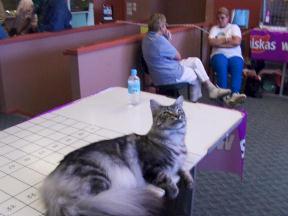 What's up there? Something catches Mickey's eye.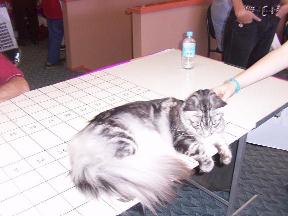 On the other hand, there's nothing like a good ear rub