ANGORA RABBIT - Nikki White (Reguli Cavy & Rabbit Stud)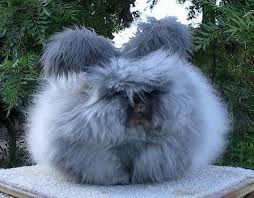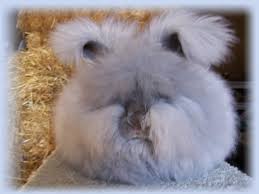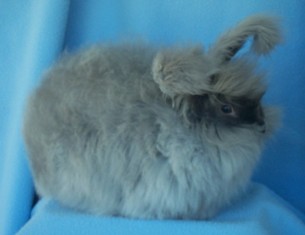 There are a number of breeds of this puffball of the rabbit fancy, of which only one is recognised by the British Rabbit Council. These breeds are: the English (BRC recognised); the French (American Rabbit Breeders Association recognises); the Satin (also ARBA recognised); the Giant (ARBA recognised) and the German. There's an interesting tale attached to the German. It was developed in Germany for the wool trade however, the standard for it adopted by ARBA is different, turning it into a fancy rabbit (I suspect it's the one ARBA calls the Giant since the German is a big Angora and the "German" isn't actually mentioned on their website list of breeds). A number of rabbit breeders in the USA who were working on the German Angora and using the standard translated from the German formed the International Association of German Angora Rabbit Breeders. They did this amicably with ARBA as both groups saw this as an opportunity for these breeders whose interest is in the wool for spinning and textiles to establish the same goal setting system in North America as that which produced the German Angora in the first place. Of the above, only the English, French and German are usually found here.
Unlike other rabbits, these have wool rather than fur. The main differences between them lie in size and coat, with the English being the smallest with the finest wool.. It is classed as a Fancy rabbit, not a Fur rabbit.
The English Angora is smaller than the continental Angoras and has silky, finer wool. The BRC standard calls for a round and snowball-like rabbit weighing around 2.5-3.4 kg (maximum). The front should be full and prominent on chest and sides of neck; the head should be broad and short with short, well-woolled and well tufted ears; the feet should be thickly covered with long wool and well furnished; the tail should be large and well woolled, the eyes bright and bold; the legs straight. White is the most common colour but a whole range of other colours are available. However, the colour can only be see clearly on the short hairs around the nose and on the ears in an adult. They are unique in that they have a multi-layered coat. The tips lighten as the coat gains length which will produce banding in the coloureds. The wool should be as silky as possible and even and full all over. The wool (quality, quantity and length) is worth 55 out of the 100 points. Faults include white banding in the coat of couloureds, white toenails in same, white patches in same, no furnishings, narrow wedge shaped heads, plain long ears, no condition, low ear carriage.
The French Angora weighs on average 3.6 kg which is more than the upper limit for the English. Its coat is harder and denser with long guard hairs and requires less grooming. It looks more like a 'regular' rabbit with long, sleek fur. The coat is plucked rather than shorn.
The German Angora is even bigger (over 4kg) and has a very dense coat with high wool production as it was developed in Germany for the wool trade. It can produce three to four times what the other Angora breeds can. The Giant Angora is similar to the German Angora, again weighing over 4kg. Its very dense wool is usually cut as it seldom moults. It is a 'commercial' type with some furnishings.
The Satin Angora is a fairly new breed, originating in Canada from crossing French Angoras with Satins. It was recognised by ARBA in 1987. It is a medium-sized rabbit, weighing 3.5-4 kg and 10 cm long fibre. It is plucked twice a year. It is a long-shiny coated rabbit.
HISTORY
As with Abyssinian cats, there is considerable debate as to whether the name signifies the animal's point of origin (Ankara, Turkey, in this case). It is certainly one of the oldest known breeds of domestic rabbit, dating back to the early 18th century in England which exported it to France in 1723 and Germany in 1766. It was originally called the White Shock Turkey rabbit and later the English Silk rabbit. A French monk claimed he could put an angora coat on any farm rabbit as it by keeping it in the dark as it was known that pit ponies developed long, straight woolly coats. These early Angoras looked nothing like the Angoras of today. They were snipier (to judge from the pictures), lacked furnishings and only had the long coat in common.
By the mid 19th century they gained recognition as a fancy rabbit and were popular at exhibitions. However, it was really in the 1920s and 1930s that the breed was improved to what we know today.
The Angora is the only breed of rabbit whose wool can be used for spinning and this was its main use, particularly in Europe. The French found the wool of the English Angora too fine and crossbred it with the Blanc de Bouscat and until the 1920s the major producer of Angora wool was France. Around 1906 the Germans developed their Angora to produce high yields of wool. There was never great Angora wool production in England and currently is very little, and takes the form of a cottage industry. In the USA there never really developed an Angora wool industry. World War Two intervened just as it was starting to get off the ground and when it was over, production had turned to the synthetics. The International Association of German Angora Breeders hope to create an Angora industry there. In Australia it was used for spinning and felt making (hats) and was an earner for Depression-era children who could hear the wool and send it to a co-operative for money
Commercially more than 7000 tonnes of wool is produced annually world-wide and the price is very volatile, especially with the entry into the market of China (now the world's biggest producer) in the 1990s. China produced 78% of the world's production in the mid-90s, followed by Chile, Argentine, France, Hungary and India. Earlier in the 20th century Eastern Europe and Japan were also big producers.
SO, AN ANGORA THEN?
The first thing to note is though an Angora in full coat looks like a big round ball of fuzzy wool, earning its sobriquet 'the fairy of the Fancy' , it doesn't get that way without considerable human intervention. This is a labour-intensive bunny. The coat is worth over half its points but equally important is the round snowball shape. (There was a trend to breed longer 'mandolin' shaped rabbits a few years back to make a bigger rabbit for more wool). They must be groomed daily with a brush or comb to prevent tangles and matting. They should be clipped at least twice a year to prevent the skin from suffocating. In full coat they cannot be kept on straw, wood shavings or sawdust because these will tangle in the coat, though clipped Angoras can be kept on these things. Commercial rabbits are often kept on wire based cages. Washing is probably even less advisable than with other breeds simply because of the density of their coats which makes them hard to dry. They require a lot of preparation for the show table, involving brushing and blow-drying the coat to bring it up and separate it on the day as well as before.
If used for spinning, the Angora's coat can be shorn or clipped for the first time at 6-8 weeks. The coat grows 80mm in three months when it can be clipped again. A skilled Angora shearer can do one rabbit in 10-20 minutes. Plucking is done over several days. Angora wool is the lightest and softest of animal fibres. One kilometre can be spun from just 7g of good Angora wool. This is one-third of the amount of fine grade sheep's wool needed to produce the same amount of yarn. The wool can be spun at home on a spinning wheel and knitted up. (An open pattern is advised as the usual stocking stitch can be too hot to wear). The fibre can be used in tapestries either on its own or blended with Cashmere rabbit fur. The wool makes extremely warm and comfortable garments. It is often used for therapeutic items for arthritis sufferers.
As pets or show animals, they have lovely, friendly, relaxed, gentle natures, yet are playful and easily handled. Anyone who went to the annual CRCI displays at the Royal Canberra in earlier years will recall Karen Swinbourne's colourful characters, such as Thomas or Isabella, who sat atop the cages, complete showmen, lapping up all the attention, meeting and greeting the punters (who usually went, "What's that??") and having their pictures taken.
They have been popular as pets. So many people come up at displays and say they had a pet rabbit when they were children and it was an Angora. My mother and her brother had one in their childhood (early 1930s) in Sydney. Bunsy was a character who would come scooting into the kitchen, deliberately sliding on the mat to take him to the sink where grandma would be cutting vegetables. He would sit up ands beg and she would always give him a piece. In the Fancy they seem to have been superseded by other newer breeds as well as in the pet stakes.
WHAT TO LOOK FOR
They should be round, not large and long, with a good density and ear furnishings. They should have good condition and not be flabby. Their coat should not be matted or knotted as this is a sign of neglect in which case a check of the abdomen is in order in case of fur ball.

CARE AND HANDLING
As indicated earlier, straw and wood shavings should be avoided. They should be kept on carpet with a wire covered litter-pan so bedding doesn't get entangled in their coat. They should be housed separately in medium cages (11-120 x 40 x 50 or 80 x 80 x 60) so as not to get tangled from huddling with cage-mates. Be careful not to overfeed them as they are rather inactive and tend to sit around, so put on weight.
The brood doe and buck should be clipped so the long wool doesn't get in the way of the mating process nor in the doe's way when suckling young.
Wool producers should be given a varied diet with more greens than other rabbits to keep up the density and quality of the wool. They should be clipped every three months and brushed daily.
Pets and exhibition rabbits should also be brushed daily and clipped twice a year. The coat tends to form webbing at the root of the hair and this needs to be teased out. They can also form matts. Preparation for show is an art involving brushing, blowing as well as the usual claw-clipping and so on. Itís best to get an experienced Angora exhibitor to show you.
Christine Carter (6231 5862, Wanniassa, offers an Angora clipping service).
ORGANISATIONS
National Angora Club (UK):
National Angora Rabbit Breeders Club (USA).
International Association of German Angora Rabbit Breeders
Besides these, there are a lot of very useful sites on Angoras on the web, many of which give pointers on grooming, shearing and spinning as well as breeding and so on, such as:
Betty Chu - she is the only one to win the ARBA national convention with an Angora and th site is packed with useful information.
FURTHER READING
British Rabbit Council, Standards of Rabbit Breeds 3rd ed. 2011-2016.
Brown, Meg & Richardson, Virginia, Rabbit Lopaedia. Lydney, Gloucestershire, Ringpress Books, 2000
Hordon, Lesley, The Angora rabbit: History, Science, Care and Crafts. Chattisham, Printing for Pleasure, 2014.
Pratley, Barbara & Yvonne Hobbs, Beginner's Guide to the English Angora, Coney Press, 1998.
Russell, Geoff, Mini Encyclopeda of Rabbit Breeds & Care. Dorking, Interpet Publishing, 2008
Sandford, J. C., The Domestic Rabbit. 5th ed. Oxford, Blackwell Science, 1996
Taylor, David, Rabbit. London, HarperCollins, 1999
Verhoef-Verhallen, Esther, Encyclopaedia of Rabbits and Rodents. Lisse, Rebo Productions, 1998
Vriends-Parent, Lucia, The New Rabbit Handbook. Hauppage, NY, Barrons, 1989
Whitman, Bob D., Domestic Rabbits & Their Histories: Breeds of the World. Leawood, KS : Leathers Publishing, 2004
Williams, A.E. Ted, Rabbit Breeding for Perfection. Melbourne, AE Williams, 1992